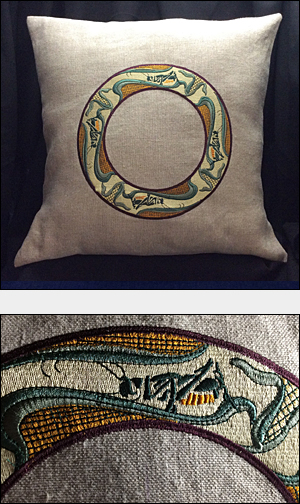 Embroidered Arts and Crafts-style Designs.
Blue Ice Textile Embroidery embroiders Arts and Crafts textiles designed for your 21st century home.
If you have collected antique linens, we understand it is a difficult decision to display them in the common areas of your home where they might be damaged. We have created a solution by machine-embroidering Arts and Crafts designs using silky rayon thread on heavy Belgian-flax linen. Their presence will add an authentic Arts and Crafts textural accent to chairs, sofas, tables and buffets. Your antique linens can be displayed on special occasions, and you will be assured their fragile beauty is preserved.
Our embroideries are both new and reproduced designs. New art designs are created by artist Leon Roulette, especially for Blue Ice Textile Embroidery. Reproduction designs are authentic designs used by the Keramic Studio, founded in 1899 and published for over 25 years, with permission by Dover Publications.
Embroidered linen items are machine-washable and may need to be ironed using the "linen" setting. The rayon thread used is fade-resistant.
Blue Ice Textiles is a member of the Made In Alaska program. We are located in Gustavus, Alaska, the gateway to Glacier Bay National Park.

We hope you enjoy the designs.
Thank you for visiting.
---
Blue Ice Textile Embroidery :: (907) 209-1296 :: Email: blueicetextileembroidery@gmail.com