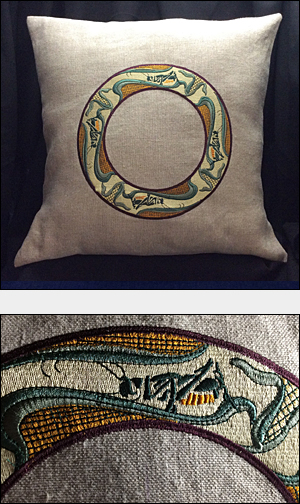 Embroidered Arts and Crafts-style Designs.
Blue Ice Textiles stitches "Arts and Crafts, Art Deco, Bungalow, Craftsman and Prairie" design styles using machine-embroidery. These concepts and design styles are over a hundred years old, but are timeless sources of inspiration for homeowners today. The thread colors Blue Ice Textiles uses are traditional colors featured during the Arts and Crafts and Craftsman period. All designs are stitched on a neutral shade of linen. New designs by Leon Roulette and vintage (c.1906–1928) Arts and Crafts, Craftsman and Art Deco designs by artists featured in the Keramic Studio publications are at the forefront of our collection.
We thank you for stopping by our site. Please visit our galleries: Pillow Covers | Kitchen Towels

We hope you enjoy the designs.
Thank you for visiting.
---
Blue Ice Textile Embroidery

(907) 209-1296

Email: blueicetextileembroidery@gmail.com